Protect Your RV
Extra Coverage to Help You Stay on the Road
Bish's RV believes RV owners should only have to focus on the journey that leads them to their destination. Worry-free RV ownership starts with elected coverage. We are proud to provide our customers with a variety of solutions when they are purchasing their RV.
Elite RV Assistance Program
Offered by Adventure RV Network
It doesn't matter if you spend $500 or $500,000, Bish's RV customers are automatic members of our Diamond Club. You get one year of benefits from the Elite RV Assistance program. We want to ensure that your first year with your RV is worry-free!
Free Benefits For One Year
In the first year of owning your RV from Bish's, enjoy a variety of valuable benefits from Adventure RV Network. At the time of purchasing your RV, you may upgrade these benefits, extending protection for as long as you own your RV.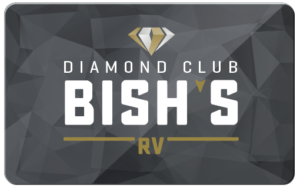 Emergency Roadside & Towing Service
Technical Assistance
Concierge Service
RV Recovery Assistance
Discounts—KOA and Embrace Pet Insurance
Rental Car/Alternate Transportation
Trip Interruption Insurance
Food Spoilage Coverage
Furniture Repair
Mobile Service
Deductible Reimbursement
ID Theft Protection
RV Life Membership—RV Trip Wizard, Maintain My RV, and Campground Reviews
Free Annual RV Winterization
Another Perk From Purchasing Your RV From Bish's
It's crucial that you prepare your RV before cold weather sets in. The winterization process protects your RV's plumbing and other components from freezing temperatures and helps avoid costly repairs that can quickly add up to thousands of dollars.
When you purchase from Bish's, winterizing your RV is easy! Just bring your RV down during one of our Winterizing Days events. This free benefit pairs perfectly with your free annual inspection.
Learn More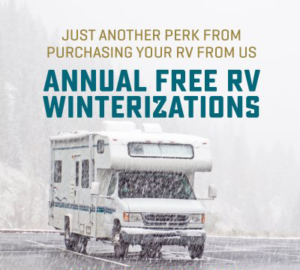 Interior And Exterior Protection For Your RV
Ultimar Surface Protection System
Protect the interior and exterior of your RV against inevitable wear and tear with a one-time product application of Ultimar. Manufactured in the USA, Ultimar meets and/or exceeds all EPA and industry standards.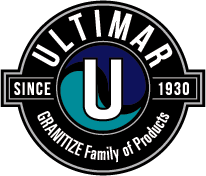 Exterior Protection
Ultimar's exterior formula protects against environmental impacts on all painted surfaces and fiberglass surfaces.
UV damage
Oxidation and fading
De-icing agents
Hard water spots
Bug damage
Bird dropping damage
Tree sap damage
Industrial fallout
Accidental paint overspray
Interior Protection
Ultimar's Bac Shield interior formula will help prevent bacterial growth on interior surfaces and inhibits odors, mold, and mildew. The product is anti-microbial, eco-friendly, and VOC free.
Protects against water and oil-based spills, accidental dye transfer, and fading
Strengthens fabric to help prevent rips, cuts, burns, and punctures without changing the fabric appearance or texture
Fabric will clean easier, look better, and last longer
Extra Benefits
In addition to protecting your RV's exterior and interior, Ultimar offers additional benefits.
No limits or deductibles
Timely claim authorizations
24/7 customer service agents based in the USA
Transferable warranty with no transfer fees
A+ rated insurance carrier
Mobile technician services
Reapplication not necessary to maintain the warranty
Tire And Wheel Protection
RV & Tow Vehicle Tire & Wheel Protection
Have you or someone you know blown a tire on an RV? We know it happens, and it can be scary. With over 14 million tires replaced to date, our Tire and Wheel Protection helps take the stress out of such a situation.
Coverage Examples
The warranty pays to repair or replace damaged tires and wheels from various causes:
Nails and screws
Potholes
Glass
Scrap metal and tire tread
A Warranty That Pays You Back
Reimbursement for the repair
Tire and wheel coverage
Mounting and balancing of replacements
Reimbursement of sales tax
$100 p/day lodging while being repaired
Monster Seal
For even more protection, you may choose to add a product called Monster Seal. The warranty from Monster Seal uses a scientifically proven formula that prevents flat tires and seals slow leaks for the life of the tire. Trusted by the U.S. Military and U.S. National Park Services, Monster Seal Tire Sealant helps maintain correct tire pressure, which increases tire life and fuel economy.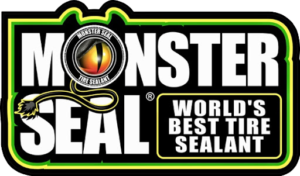 Protection For The Long Run
Insurance & Warranties
Specialty RV Insurance
Adding your RV to an existing auto policy often does not give you the proper coverage. Bish's RV partners with an insurance broker that shops numerous carriers to find the right insurance for you at the right price. Our broker has access to tailor-made RV policies with specialized coverages for RV owners.
As an additional benefit, your RV insurance policy will be re-shopped annually to ensure you are getting the best rates and coverage.
Replacement of personal property
RV awning
Pest protection
Vacation liability
Total loss replacement
Full-time RVer coverage
Flooding
Emergency expenses
Gap Coverage
Guaranteed Asset Protection (GAP) prevents you from owing money on a totaled RV. It waives the difference between your primary insurer's settlement amount and the outstanding balance owed on your RV on the date of loss.
Extended Service Contracts
RV repairs are inevitable. Take the stress out of the repair process and leave the bill to someone else! Bish's RV offers extended warranty options that go beyond the manufacturer's one or two year warranty (on new RVs). Insure your RV against mechanical failure with deductibles as low a $0.
Buying an older RV? We have options! We offer extended service contracts on RVs up to 20 years old.
In addition to wear and tear, the following components are covered:
Suspension
Brakes
Fresh/wastewater
Kitchen center
Roof/basement A/C
Gas system
Heating system
Generator/power plant
Seals and gaskets
Hi-tech
Deluxe appliances
Entertainment
Interior/exterior
Leveling system
Power steps
Slide-out rooms
In addition to wear and tear, the following components are covered:
Chassis and engine
Transmission
Drive axle
Steering
Fuel delivery
Chassis air conditioning
Electrical
Suspension
Brakes
Fresh/wastewater
Kitchen center
Roof/basement A/C
Gas system
Heating system
Generator/power plant
Seals and gaskets
Hi-tech
Deluxe appliances
Entertainment
Interior/exterior
Leveling system
Power steps
Slide-out rooms
Prevent Your RV From Being Stolen
RV Theft Protection System Limited Warranty
A vehicle is stolen every 40.9 seconds in the United States. Vehicle theft accounts for $6 billion in annual losses. Does an RV theft protection system make sense for you?
The true cost of RV theft goes well beyond the loss of your RV. Insurance companies often only cover market value at the time of loss, possibly leaving you with significant out-of-pocket expenses.
The RV Theft Protection System offers a $5,000 benefit with no deductible.
How It Works
Traceable Technology
Traceable DNA stickers are strategically placed on your RV before you leave the dealership. Warning decals are placed on the RV, visibly indicating that it is protected.
If the DNA stickers are removed, invisible ID numbers will be left behind, easily traceable by law enforcement.
In the event that your RV is stolen and unrecoverable, or if recovered and is a total loss, you can take advantage of the RV Theft Protection System benefits of up to $5,000.